All what you want to know about
driver guide EVA
providing private tours by car in Budapest and Hungary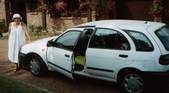 Dear guest,
welcome to my site!
I am Eva, driver guide in Budapest, member of the DriverGuides group at www.driverguides.hu.
As a tourist guide of 25 years of experience in customized private tours by car and walking tours I will show you places of special interest like antique markets and more.
Languages: English
Car: air-conditioned Nissan Almera
Skills: 25 years of experience in customized private tours by car, walking tours, antique market tours
Favourites: architecture, arts, music, driving, languages
E-mail: anthurium413@yahoo.com
Phone (cell): +36 30 921 7763
Phone (home): +36 1 364 0440